The film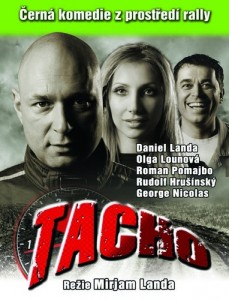 TACHO starring Julian Pindar is out on DVD on the 26th May.
TACHO is a black comedy about a successful Rally driver and his race of a lifetime. Alex cannot imagine life without Rally, devoting himself exclusively to it. After an accident during which his co-driver is seriously injured, and with the date of the most important race of the season inexorably approaching, Alex's manager is desperately searching for a replacement co-driver. Alex wants to race at all costs, despite the explicit ban on driving imposed by his doctor. He has been racing for fifteen years, but the greatest achievement has always escaped him by a hair's breadth. After a fated encounter with a girl, he surprisingly decides that she alone is to be his co-driver in this race of a lifetime –the totally inexperienced Lucy, also committed to victory. The German, Weber, Alex's greatest rival, already sees himself as a winner.  Also dreaming of victory are Slovakian adventurer, Jožo, and his new co-driver, Jula, whom he rescued from the clutches of the Mafia. English racing drivers, Charlie and Dave, are also practising intensely, albeit for something entirely different from Rally. Will this dramatic race have any winner at all? Indeed, life is about living every moment…
1 Comment to TACHO DVD Release date 26th May!
Leave a comment