review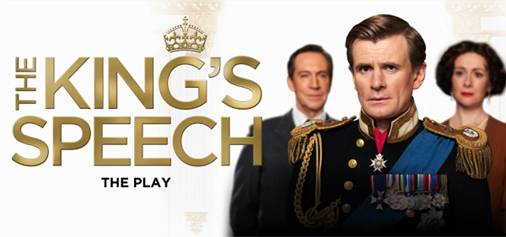 Julian was a the press night for "The King's Speech" at Wyndham's Theatre and Charles Edwards who plays Bertie in the production produced a brilliant performance.
The King's Speech was written by David Seidler after reading about George VI's life overcoming a stuttering condition he endured during his youth. He started writing about the relationship between the monarch and his therapist as early as the 1980s, but at the request of the King's widow the Queen Mother, postponed work until her death in 2002. He later rewrote his screenplay for the stage to focus on the essential relationship between the two protagonists. It was also created as an Oscar winning film. Nine weeks before filming of the movie began, Logue's notebooks were discovered and quotations from them were incorporated into the scripts for both the film and theatre productions.
The production is on until 21st July.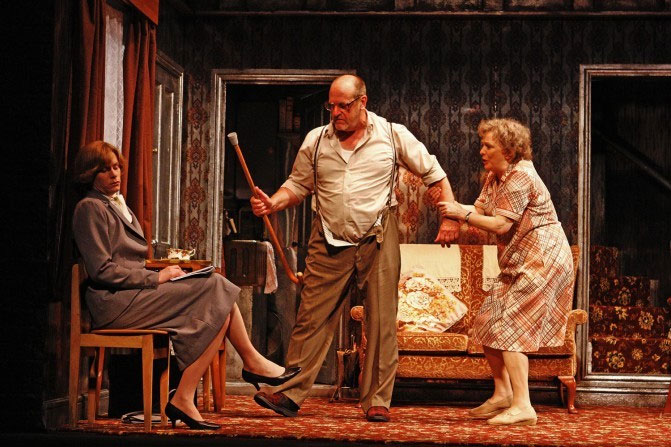 In the words of Dominic Maxwell  from The Times 'There's no business like show business — but, against that, there's no business like snow'. With snow everywhere and west end shows being cancelled all over the place Enjoy definitely rose to the occasion on Press Night. Since then the reviews have been coming in. Here are several of them …

"It isn't just the funniest most thoughtful and poignant play in town – it's the most enjoyable one."
thelondonpaper


"… had the Bath audience in hysterics"
Guardian (before the move to the West End) – read review
Critics Choice: Best Theatre Production (5th Feb 09)
Evening Standard – read review


"the ending is shattering, poetic, unforgettable"
The Independent -read review


"Richard Glaves closes each act with two of the most moving speeches on the modern stage."
What's on Stage – read review


"It's great to see justice finally being done to one of the richest and most original of all Alan Bennett's plays. "
Telegraph – read review


"… there was no stopping this redoubtable revival of Alan Bennett's most peculiar play"
The Times – read review


"The final 10 minutes are devastating and memorable"
Guardian – read review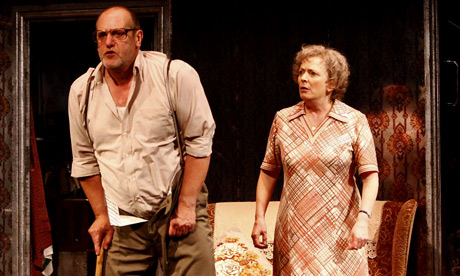 The reviews are coming in thick and fast for Enjoy, this one is by Michael Billington of The Guardian who gave the show 5 out of 5!
Alan Bennett's 1980 comedy has acquired a sudden topicality with the news that 40,000 households are to be subject to a detailed social survey. For Bennett's rich and wondrous play is, among many other things, about the way we assume a false identity when under observation. If this sounds unduly solemn, I can only say that Christopher Luscombe's production, substantially recast since it first appearance at the Palace Watford, had the Bath audience in hysterics.
Bennett's setting is one of the last back-to-backs in Leeds, occupied by a beleaguered old couple. Connie is a houseproud amnesiac who claims, "I keep that toilet like a palace." Wilfred, with a steel plate in his head after a hit-and-run accident, is a more tormented soul who cannot wait for the bulldozers to arrive. But when a sexually ambiguous sociologist called "Ms Craig" arrives to monitor the couple's daily life, everything goes haywire. Their daughter Linda announces she is off to marry a Saudi prince; Wilfred keels over after a brutal attack by a young thug; and the couple's long-banished gay son is revealed to be in their midst.
The play's brilliance lies in its mixture of satire and farce. Bennett is clearly attacking the self-consciousness of closely scrutinised behaviour and the transformation of working-class life into a theme-park industry. But his play is also riotously funnny. The highpoint comes in a scene, echoing DH Lawrence's The Widowing of Mrs Holroyd, in which Wilfred's supposed corpse is stripped and washed in what a neighbour, Mrs Clegg, calls "the customary manner". Carol Macready is magnificent as Mrs Clegg, offering a mountainous mixture of fake gentility and voyeuristic curiosity as she eagerly tugs off Wilfred's trousers. In its ability to combine a social point about bogus traditions with a literary reference, the scene also typifies a play that climaxes with an echo of Proust.
The performances are just about perfect. David Troughton seethes with rage as the abusive, partially paralysed Wilfred, who feels he has been cheated of life. Alison Steadman wisely never patronises Connie but plays her as a simple, kindly woman for whom cleanliness is far superior to godliness. Josie Walker again invests Linda with a vituperative sexiness, while Richard Glaves as the svelte "Ms Craig" has the ambivalent mystery of Ben Jonson's The Silent Woman. Janet Bird's design cleverly reminds us that there is a conscious theatricality about this cramped working-class pad destined to end up a museum piece. After its short tour, this joyous production should move lock, stock and barrel into the West End.